The Online Prenatal class for Couples will simplify the labor process so you can have a more relaxed pregnancy & birth.
It's just that simple.
Learn more about the course & options here.
Your Instructor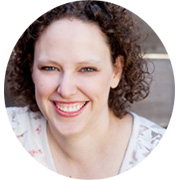 Hilary received her Bachelor's of science in Nursing from Brigham Young University in 1998. She has worked pediatric urgent care, nursing home and hospice before making the big shift to labor and delivery in 2001.
Labor and delivery is her home, although she still dreams of being Julianna Margulies from ER every now and then.
She practiced labor and delivery in San Jose, CA for 10 years and moved to the Phoenix Area in Arizona in 2011, where she continues to practice labor and delivery.
She is ACLS, NRP and AWHONN fetal monitoring certified (like all good L&D nurses are)
She has taught her own in-person prenatal classes and really enjoys educating her patients as to what is going on.
She also almost threw up in prenatal class, and knows exactly how nervous you are.
Hilary has 3 children of her own and a husband who tolerates her talking about vaginas every now and then.
Course Curriculum
Online Prenatal Class for Couples Info
Available in days
days after you enroll
Pregnancy/Before Heading to the Hospital
Available in days
days after you enroll
Many classes I have looked at seem to be targetd towards a specific "type" of mom:
I believe & created this class is for every mom planning a hospital/birth center delivery:
First time moms: This goes through things to expect in the third trimester, all the way through the months after delivery. The full course allows you to gain support from Hilary and other moms in the course.
Second time Moms: Pick the option for the leve of knowledge you'd like to refresh, makes it easy (and easy to fit into your budget!)
Moms wanting a natural birth: This class will prepare you for a realistic look at what a hospital delivery will look like, as well as what will happen if you decide a natural birth isn't your best options.
Moms who want an epidural: I will explain the procedure in great detail, as well as giving you some other outside resources if you want even more information!
Moms who want an induction: We'll go into detail on inductions, why they're indicated and what to expect!
Moms who have no idea what they want: We're going to go in depth into all of your options (on all things, not just pain management) so that you can have input on the best choice for you along with your healthcare provider.
Moms on any budget: Don't feel like you have to get a course you can't afford. I offer 3 options, and I they are all going to help prepare you! Pick the option that fits your budget!
Moms who are having a cesarean: We have a whole chapter on what to expect in the OR so that you can stay calm and get excited for your delivery day! Btw, it's super normal to be very nervous -- but I think that chapter is really going to help!
Moms who feel like they're getting pushed into things: I'm not saying that all hospital deliveries are always 100% great. I will give you the vocabulary and tools to talk to your doctor about your options and get what works best for you!
Moms with complications: Because I have seen THOUSANDS of patients, I have seen the majority of labor complications and can talk with you more about what to expect!
Mom's with questions (aka, all moms): The course will initially answer a LOT of questions. Be sure to buy the online course or the full version so you can get any questions answered!
Moms who don't need guilt: So many clases seem to say you"HAVE" to do your birth "THIS" way or your baby will suffer. I don't agree with that philosophy. I say leave guilt at the door. Every birth is different and I'll talk to you about going with the flow.
If you are planning on a home birth, I do think it is still important to know what to expect if your delivery ends up occuring in a hospital, but I do not have knowledge about what to expect in a home birth.
What Makes My Course Different, and better?
The Couples Portion: Starting on the same page is so much easier than shifting to the same page once you're in process. This will get you off on the right foot as parents. Other classes tend to ignore the VERY important partner relationship. You love each other, you love this baby - that will carry you through.
Me: Yes, a lot of nurses CAN teach prenatal class, but most shouldn't. I have written a blog for 11 years because I love to

write

and

teach

. I will make it engaging and compact for your busy schedule. If you've read my pregnancy articles or newsletter, you know that my 15 years in labor and delivery have produced someone you can trust to know what they're doing.
Speed: One of my bigger beefs with teaching prenatal class is the people who wanted their OWN question answered in depth while the rest of the class sat there.

I knew I was wasting everyone else's time.

None of that here! Plus, many of the options have ways to still communicate with me!
Cost: Consider your time, traffic, possible babysitter (this class is awesome for 2nd time moms!). The Basic edition is at a rock bottom price giving you huge value for your dollar!
**In the end, through the ability to really think everything through, as well as give you some outside information. I actually think that this prenatal class is better than the ones I have taught in person (and the class reviews on those were pretty stellar).**
This course is available as
A Downloadable Ebook
The online course (that's this one)
A deluxe version that includes the online course, the e-book AND a facebook group where we go through the whole thing together!
You can learn more about the different options here.